As promised, this is a current catastrophe warrants its own post, especially as most of the world does not see it news worthy.
The islands of Cape Verde have become a popular destination for tourists off the coast of Africa. Their origins are volcanic;  as the African Plate moves across a hot spot. Although few of the volcanoes are believed to  extinct the island of Fogo which is thought to sit directly above mantle is rather active.
On November 23rd Pico de Fogo rumbled life again after laying in quiet almost 20 years. In an eruption true to typical hotspot volcanism, there were no huge blasts or billowing ash clouds sent rocketing in to the stratosphere, what there was was lava, volumes and volumes of basaltic lava. Moving at average speeds of just 10 m/ph basaltic lava is easily outrun and the villages like Portela and Bangueira were able to evacuate meaning little threat to human life. Does this therefore follow that there was no threat at all?
A month on the flow still advances completely devouring the towns of Cha das Caldeiras and Portela. Homes, schoools, businesses completely gone with former residents left helpless on the sidelines. Buildings in Bangueira are also being destroyed and the lava is heading towards other villages.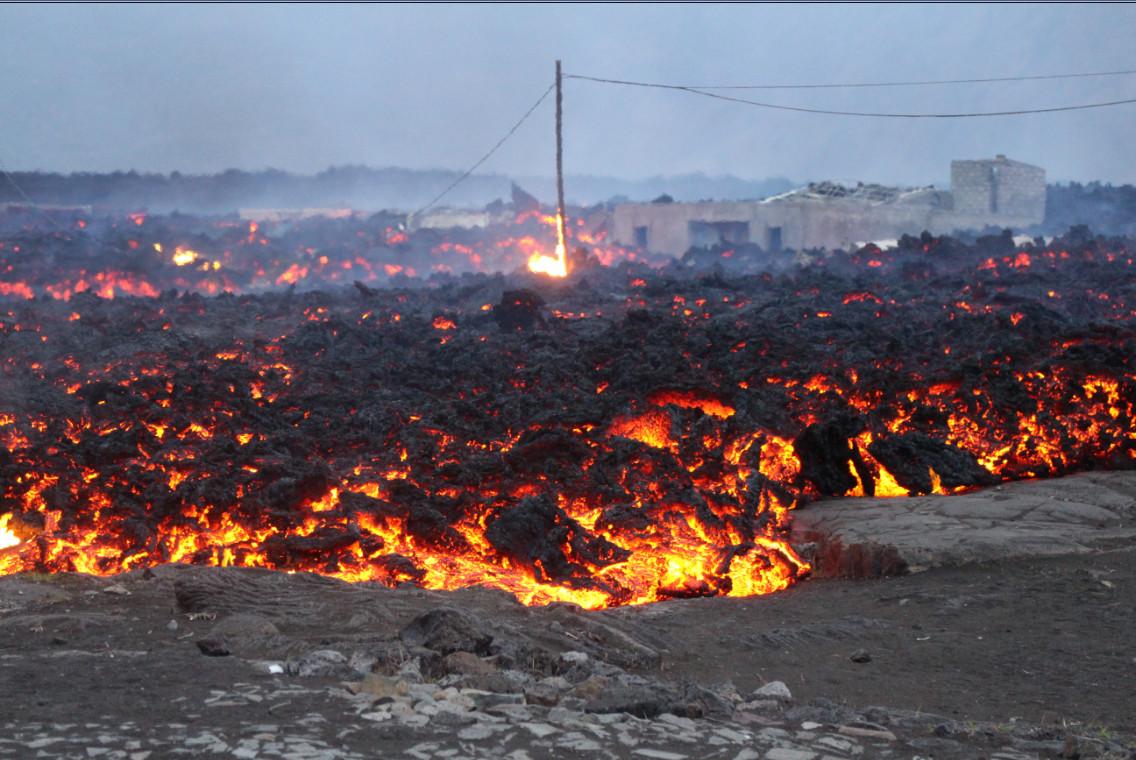 Yet what makes this situation worse is the lack of world support or even knowledge of the unfolding situation in Fogo. Sorry but to me peoples homes being destroyed, livelihoods lost is a big deal. Sadly Kim Kardashian's naked backside seems to have more media interest than the poor people of Cape Verde.
I have mentioned on several posts that world ignorance to geological events is unbelievable. But what actually makes such news relevant to world media or aid?
Fellow member of the Open University community has a similar view and wrote as such for Science2o. "Does Ebola on mainland Africa and a typhoon in the Philippines mean that there really is no time for an event such as this in our mainstream news agenda? Or do we care about volcanoes only if there's a chance of them inconveniencing our air-travel plans?"
I wonder how quickly this may change if people understood Fogo's past and the danger that lays beneath the lava…..
The eastern flank of Fogo is scared from a collapse caused by an eruption around 40,000 years ago. The mass of rock, debris and volcanic material crashed in to the ocean causing a mega tsunami that make 2011's Sendai disaster look like ripples in a puddle. On the neighboring island of Santiago, evidence of the catastrophic wave can be found over 100 m above sea level. It would of swept far inland on the west coast of Africa and decimated the coasts of Portugal and Spain.
The flanks of Fogo today are still not considered the most stable although it is thought we should not see another collapse in quiet some time, pending on future eruption styles. But the idea that this small volcano, which is currently seen as insignificant to the media, could threaten people on a global scale says so much about peoples ignorance to the planet we live on.
Rothery, D. http://www.science20.com/the_conversation/cape_verde_volcano_the_biggest_natural_disaster_you_arent_reading_about-150923